The US Supreme Court's decision in Dobbs v. Jackson Women's Health Organization stripped away the rights of millions of Americans. Not only was a person's right to make their own medical decisions once again put at risk across states and around the country, but more people will now be denied life-saving care. 
Justice Thomas made it clear he doesn't want to stop there - Dobbs opened the door for attacks on more of our civil liberties including free speech, religious liberty, voting rights, freedom from discrimination based on our race, sex, or disabilities, and more, and the Court continues to make it harder for Americans to hold police and other government actors accountable for violating our constitutional rights.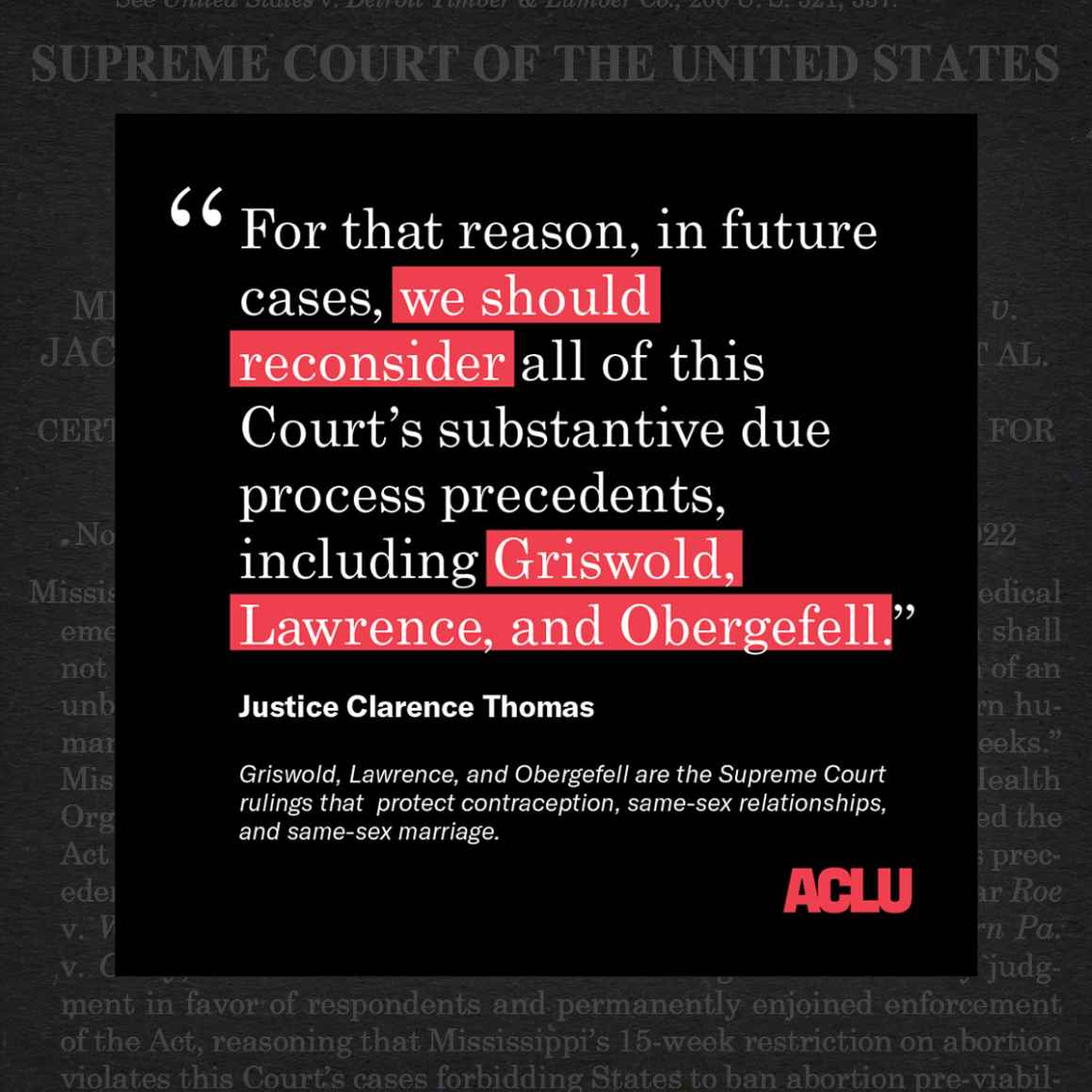 Just as we as individuals have multiple facets that make up our identities, these issues do not stand alone. Nor are these attacks on equality, privacy and bodily autonomy anything new. The institution of slavery established a system of racial injustice that permeates every corner of our nation today. Deeply ingrained systemic racism and inequities that disadvantaged Black Americans and other communities of color are still woven into the fabric of our institutions – from education and housing to our criminal punishment system. 
We now have a radical Supreme Court that aims to erase decades of work done to expand and protect our rights and freedoms. 
Our liberation is bound together. An attack on one of us is an attack on all of us. Now is the time to use our rights - to free speech, to associate, to vote, to run for office, to protest, and to push back on out of control politicians and institutions, on behalf of all people. And, we need to ensure that all people know and can exercise their rights, and have them respected, too. 
At the ACLU of Arkansas, we will keep coming together with our colleagues, members, supporters, and ally organizations to defend our civil liberties. It's time to stand up to the bully politicians masquerading as leaders and remind them where the lines are drawn in this country. We must remind the Court and our elected leaders who they are supposed to represent and protect and that their rights stop where they affect our rights. 
We're only going to win if we have you with us! From contacting elected officials to sharing information on social media, to telling your personal story – tell us now how you're going to join the fight.